One of my favorite storytimes during our space-themed summer was all about aliens. No surprise considering that I am Star Wars, Star Trek, Sci-Fi/Fantasy nerd. You don't have to be a Trekkie, though, to enjoy these out-of-this-world picture books.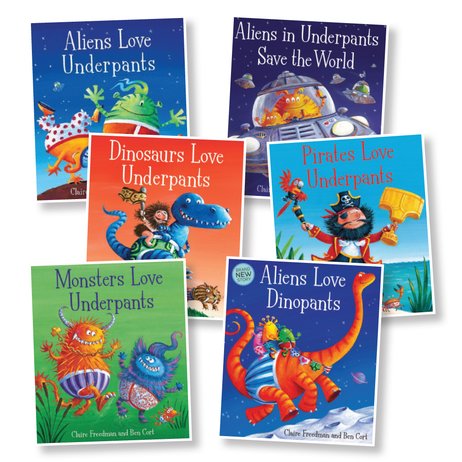 Say the word "underpants" in front of any child and I promise that they will giggle. That fact already makes the
Underpants books
by Claire Freedman and Ben Cort guaranteed crowd pleasers. Of course, for this blog post I want to recommend
Aliens Love Underpants
and
Aliens in Underpants Save the World
. The stories are silly and the illustrations are vibrant and adorable. Scholastic also has some fun and easy
downloadable activities
to go along with the books.
Your Alien
and
Your Alien Returns
by Tammi Sauer were new to me this year even though they were published in 2015 and 2016, respectively. The former is like a condensed and less sad version of E.T. A spaceship crash lands in a boy's backyard and he instantly befriends the super cute green alien inside. After a fun-filled day of alien hijinks the diminutive extra terrestrial is homesick so the boy finds a way to contact its parents. In the sequel,
Your Alien Returns
, the human boy is invited by the alien to visit his home.
What really brings these two stories to life, though, is
Goro Fujita
's, stunning artwork. Fujita has worked for Dreamworks Animation and is currently using virtual reality to create amazing digital paintings.
My son loves the interactive picture books by
Tom Fletcher
. Seriously, I think that I have read
There's a Dragon in Your Book
over a hundred times. So, I don't believe anyone was more excited than me when Fletcher released
There's an Alien in Your Book
last May! Young readers become part of the story as they are asked to do a variety of actions from tilting the book one way or the other, making faces, wiggling, blowing wind, etc. If you have a little one at home I highly recommend checking these out or buying them for your personal collection because they are sure to become favorites. If you need more convincing here is a video of Tom Fletcher reading
There's a Monster in Your Book
.
Even Aliens Need Snacks
by Matthew McElligot is another picture book that has been a huge hit at storytime. An aspiring young chef is told by his big sister that no one on earth would eat his less than appetizing creations. The solution, of course, is to open a late night snack shop for visitors from other planets. Kids will laugh at all of the unique aliens and there are sure to be plenty of "EWWWWS" at the bizarre culinary creations.
Need more aliens? Here are a few more extra terrestrial picture books that I have enjoyed.
Life on Mars
by John Agee
Three Little Aliens and the Big Bad Robot
by Margaret McNamara
Earth to Clunk
by Pam Smallcomb
Zathura
by Chris Van Allsburg