International Picture Book Month
you should check out the website. There are activities, links to author websites, reading guides, a cool twibbon you can add to your twitter and/or facebook profile, and each day there is an essay by a different author about why they think picture books are important.
Mordecai Gerstein
may not be a household name but he is an amazing artist whose stunning illustrations are instantly recognizable.
Gerstein, who would have celebrated his 84th birthday this November, first entered the picture book world when he began illustrating the books of Elizabeth Levy. Encouraged by Levy, Gerstein began writing and illustrating his own stories and his first book,
Arnold of the Ducks
, was published in 1983. Following the success of Arnold, Gerstein wrote and illustrated over forty more books during a career that spanned nearly four decades.
What makes Gerstein's work so special? Well, his stories are witty, original, heartfelt, and the painted illustrations are dreamy yet full of entrancing details. I particularly love
A Book
which is a hilarious portrayal of a young girl who lives with her family inside a book and goes on a journey to discover her story. I am a sucker for books that break the fourth wall (directly speak to the reader) and Gerstein does this brilliantly, even drawing the illustrations as if being looked at from an upwards angle complete with shadows. Readers of all ages will be entertained by this charming and original story, but
A Book
is also an excellent way to teach the concept of genre.
The Night World
in which a young boy wakes up and explores his shadowed home and backyard before the sun rises is a favorite of my youngest son. It is a gorgeous but unusual picture book in that the majority of the pages are black, white, and grey. In the final pages of the story the sun rises and there is a riotous explosion of color. My son especially loves the dark pages because he enjoys identifying all of the different animals and objects that appear only as black shapes. If you have a little one who is frightened of the dark,
The Night World
will hopefully show them that nighttime can be beautiful.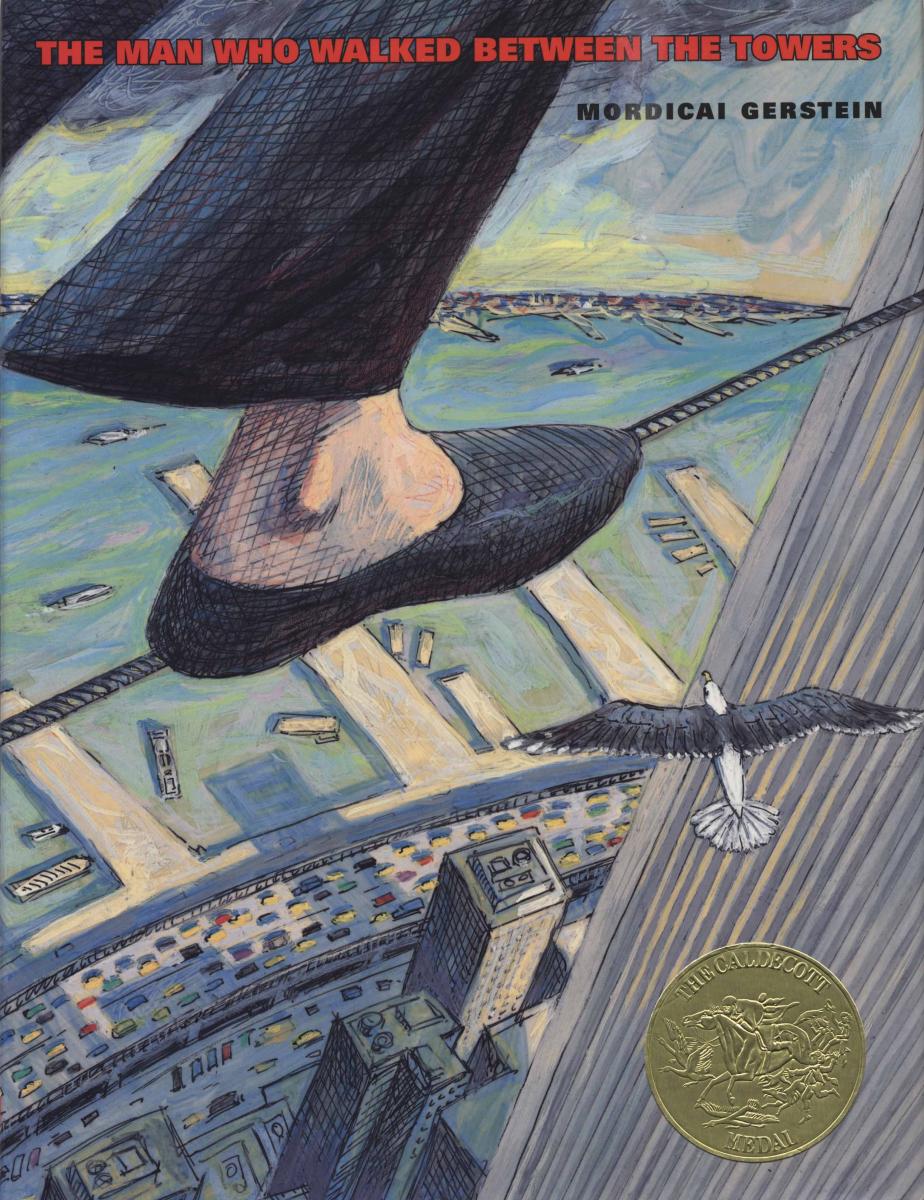 Gerstein's most well known book is probably
The Man Who Walked Between the Towers
which wonthe prestigious Caldecott Medal in 2004. Following the tragic events of September 11, 2001 Gerstein was inspired to memorialize the twin towers in picture book form. The book chronicles the daring actions of French high-wire artist, Phillipe Petit, who actually walked a tight rope between the two towers on August 4, 1971. It probably does not make sense that a book about something that happened in 1974 could be a tribute to the 9/11 tragedy. However, Gerstein's panoramic paintings of Petit walking between the towers from multiple view points are transcendent. The final picture shows two transparent, dream-like towers with a small figure suspended between them. Gerstein manages to take the horrible emptiness of the current New York skyline and remind us of the bravery, courage, and joy of humanity.
Here is a video of the real Phillipe Petit and his historic walk between the twin towers.